Dance Sensation Dance Academy's
2018-2019 Dance Season Schedule
| | | |
| --- | --- | --- |
| MONDAY | PINK ROOM | BLUE ROOM |
| 5:15pm | Advanced Combo Jazz II | Junior Company Tap |
| 6:00pm | Junior Company Jazz | Advanced Combo Tap II |
| 6:45pm | Intermediate Ballet II | Junior Company Hip Hop |
| 7:45pm | Second Year Ballet | |
| | | |
| --- | --- | --- |
| TUESDAY | PINK ROOM | BLUE ROOM |
| 5:00pm | Company Jazz | |
| 6:00pm | | Company Tap |
| 7:00pm | Company Ballet | *New Class* |
| 8:00pm | Company Pointe | *New Class* |
| | | |
| --- | --- | --- |
| WEDNESDAY | PINK ROOM | BLUE ROOM |
| 5:00pm | Combo Hip Hop | |
| 5:30pm | *New Combo Jazz* | Combo Tap |
| 6:00pm | Combo Jazz | *New Combo Tap* |
| 6:30pm | Combo Ballet | |
| 7:00pm | Acrobatics | |
| 8:00pm | Company Hip Hop | * New Class* |
THURSDAY

PINK ROOM

BLUE ROOM

5:15pm

Apprentice Ballet

Hip Hop

Ages 9-11

6:15pm

Apprentice Pointe

Hip Hop

Ages 11-13

7:00pm

Beginner Pointe




7:15pm




New Combo Class

Ages 9-12

7:45pm

Solo Lesson









FRIDAY

PINK ROOM

BLUE ROOM

5:15pm

Combo Tap (3-5 yrs)

5:45pm




Combo Jazz

(3-5 yrs)

6:15pm

Adv. Combo Jazz I

Jr Company Tap A

7:00pm

Jr Company Jazz A

Adv. Combo Tap I

7:45pm

Intermediate

Ballet I

8:45pm

Solo Lesson
School Closings
The Dance Sensation Dance Calendar does not follow the regular school calendar - although school may be closed, dance lessons may still resume.
Monday, September 3, 2018 - Labor Day
Thursday, November 22 & 23, 2018- Thanksgiving
Saturday, December 22, 2018 thru
Tuesday, January 1, 2019
Winter Holiday Break
Monday, May 27, 2019 -Memorial Day
Studio closings due to weather or emergencies will be notified either through e-mail,
phone and/ or will be listed on the website and social media accounts.




DRESS CODE
At Dance Sensation we do not enforce a specific "studio" uniform, for it is our belief that it is the child's hard work and determination that makes him/her a dancer, not his/her clothes.
However, it is necessary for Dance Sensation to apply a dress code guideline for the 2018-2019 dance year.

It is important that students wear proper attire to dance classes in order to receive the best class possible in their selected dance genre.

Take special note of the shoe color for each class as it will be most helpful when the recital season arrives.

Please refer below for the proper dress code for each class.
Dance Sensation Dancer: Miss Story Camacho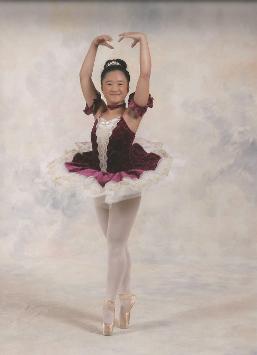 Dance Sensation Dancer: Miss Kaela Dimmanlig
IMPORTANT INFO:
For All Classes
Hair MUST be tied back in a ponytail or bun...hair is not allowed to be left down. Please do not wear loose or "dangly" jewelry. Do not wear loose clothing as it makes it impossible for the teacher to see the students' body and make proper corrections. Please remember that dance shoes should be purchased "to fit", not "for room to grow"! Shoes that are too small or too big greatly hinder a student's progress.
| | |
| --- | --- |
| Pre- Dance | Any style/color of a children's leotard or dance attire. Pre-dance students are not required to wear tights. Each student must own a pair of white leather ballet slippers. |
| Combo Class | Any style/color leotard can be worn for combo class. Tight fitting shorts may be worn. All combo students are required to own a pair of tan, flat tap shoes with a buckle or tie laces and a pair of white leather ballet slippers for the jazz portion of their class. |
| Advanced Combo Class | Any style/color leotard can be worn for Adv. Combo class. Tight fitting shorts may be worn. Tights must be worn – no bare legs! All Adv. Combo students are required to own a pair of tan, flat tap shoes with a buckle and a pair of tan, leather "slip-on" jazz shoes. |
| Tap Classes | Any style/color leotard may be worn for this class. Tight fitting shorts may be worn. Tights must be worn – no bare legs! Students are required to own a pair of black heeled tap shoes. |
| Jazz Classes | Any style/color leotard may be worn for this class. Tight fitting shorts or jazz pants may be worn, if student does not wear jazz pants they must wear tights! Students are required to own a pair of tan, leather "slip-on" jazz shoes (students may also be required to own black jazz shoes). |
| Acrobatics | Any style/color leotard may be worn for acrobatics. Tight fitting shorts or pants may be worn. Students are required to own a pair of white acrobatic sneakers (that are only to be worn during acrobatic classes!) |
| Hip Hop | Any style/color leotard may be worn for hip-hop. Tight fitting shorts or jazz pants and a tight fitting t-shirt/tank top may be worn. Students are required to own any style/type of jazz shoe or sneaker (that are only to be worn during hip hop classes!) … pending its approval from Miss Christine and/or Mr. Brendan. |
| Ballet & Pointe | Any style/color leotard may be worn for ballet classes. No shorts, no t-shirts. A chiffon ballet skirt may be worn and leg warmers and a ballet sweater may be worn for a portion of classes pending permission from Miss Susan. Tights must be worn – ABSOLUTELY no bare legs! Students are required to own a pair of pink leather or canvas ballet slippers – pointe shoes are required for only those who are applicable to have pointe instruction. |
| Adult Classes | Adult Classes – Dress code is lenient and will be moderated by Miss Susan. |